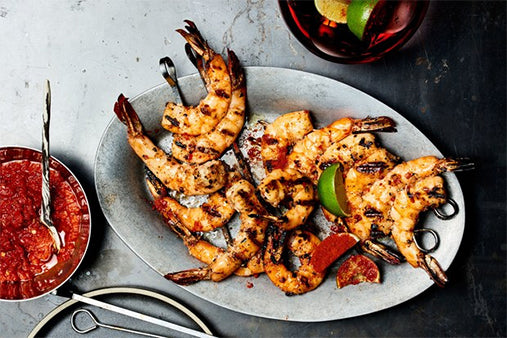 Recipe for
Grilled Garlic and Black Pepper Shrimp
Ingredients
1 fresh red chile (such as Fresno), seeds removed, finely grated
3 garlic cloves, finely grated
1 tablespoon coarsely ground pepper
1 tablespoon fresh lime juice
2 tablespoons vegetable oil, plus more for grill
1 pound large shrimp, peeled, deveined
Kosher salt
Lime wedges and Kashmiri chili powder or paprika (for serving)
Special Equipment:
Four 8-inch-long metal skewers or bamboo skewers soaked 30 minutes in water
Preparation
Whisk chile, garlic, pepper, lime juice, and 2 Tbsp. oil in a large bowl. Add shrimp and toss to coat; season with salt. Thread shrimp onto sets of 2 skewers.
Prepare a grill for medium-high heat; clean grates well, then oil. Grill shrimp, turning once, until cooked through and lightly charred, about 5 minutes total. Serve with lime wedges dipped in chili powder.
---
---