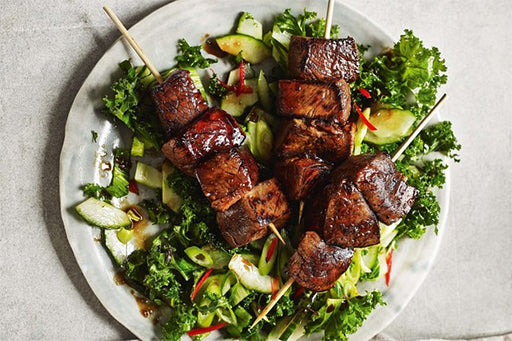 Ingredients
14 oz (400g) lean diced steak, with fat trimmed
1 large bok choy, shredded
1 large handful of kale, shredded
1 spring onion, sliced
1/2 cucumber, deseeded and diced
1 tbsp sherry vinegar
1 tsp olive oil
1 tsp soy sauce
1 red chile, deseeded and thinly sliced (optional)
For the marinade:
1 tbsp soy sauce
1 tbsp mirin
1 tbsp honey
1 thumb-sized piece of fresh ginger, grated
Preparation
Create your marinade by mixing the soy, mirin and honey with half of the ginger and pour it over the steak, leaving to marinate for about an hour.
Mix the bok choy, kale, spring onion and cucumber and toss with the sherry vinegar, the olive oil, the remaining ginger and the soy sauce and assemble in a serving bowl.
Using small skewers, thread about four steak pieces on to each skewer and then sear in a hot frying pan for about 2 minutes on each side.
Once all the steak has been cooked, serve with the salad. Finish with a sprinkling of chile, if using.
---
---